7 Ideas for Creating Shared Workspaces for All Types of Businesses and Members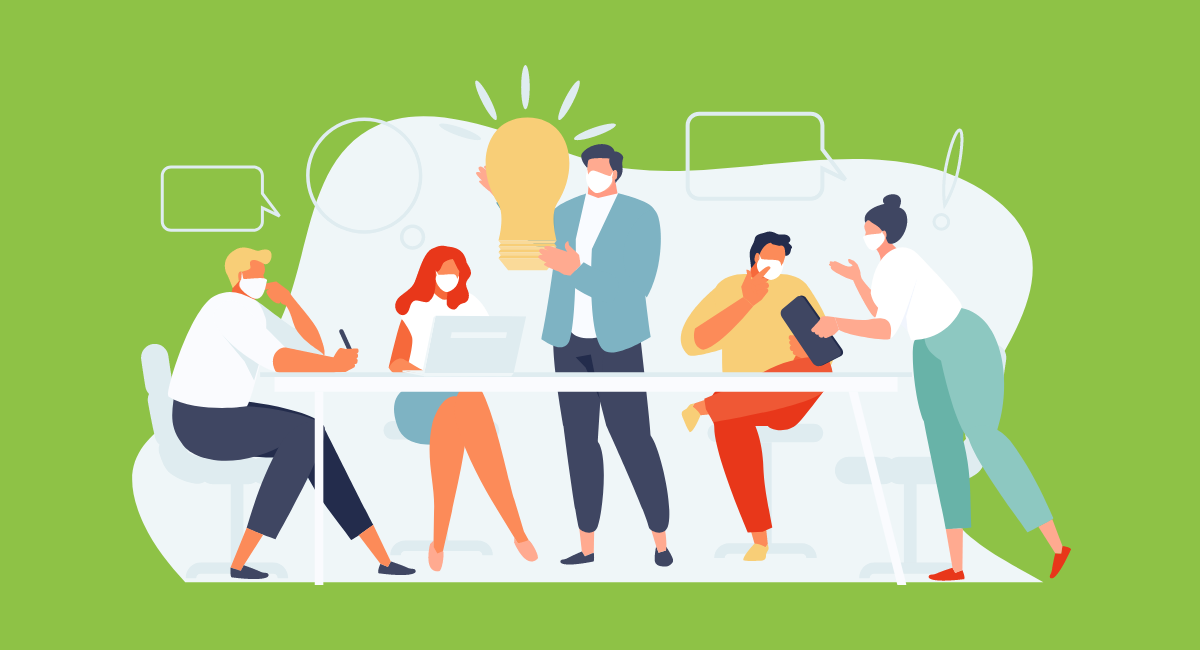 The whole world seems to be in flux, and our little corner of it in the coworking and flexspace industry is even more so. So let's put our thumb on the scales and increase our odds of success and our market of potential members!
1. Know Who Your Members Are
All types of knowledge workers need coworking spaces now. This is a broad mix of people: Solopreneurs. Consultants. Corporate employees who can now work remotely. Startups. Non-profits. Small teams of larger companies.
And they work in all types of fields and industries. Your members might be architects or lawyers. They might work in any type of software or product design. They might be setting up a non-profit delivering water in developing countries.
There is a similarity of needs across these categories, and sometimes the differences relate to the size of the entity, the security needs of their business focus, how long they've been in business and how old-school they are.
2. Ask Questions
There are really only a few things you need to know, so know what the really relevant questions are. (Your questions shouldn't be limited to these, of course. People need to know you're interested in what they do!) Remember that potential members don't know your field as well as you do, so they won't know all the options you can offer or what information is relevant for you to help them. At a minimum, you need the answers to the following, but explain options as you go. People may think they need an office when really they intend to pop in with their laptop a few times a week, or want to use a phone cube occasionally.
Will they be coming in occasionally or every day? Or might their need grow or change as they try out the space?
Are they in private meetings all the time, or occasionally? In person or Zoom?
Do they spread out, or is everything in their laptop? Do they need to leave their setup in place?
Do they need space to run classes? Or store a little inventory? Or paper files?
Are they uploading a lot of video? Or podcasts? Or have major security needs? If you hear "health care" or "financial services", think extra levels of security.
Are they coming in at any time of the day or night?
Will they have a significant number of guests or clients coming in?
Is this a long-term need? Or temporary during a build-out?
You won't have to ask all of these. Many will be obvious from their other statements. You can meet any of these needs if you design your space and plans right. And you can do it easily, without a lot of manual tracking or space adjustments.
3. Understand the different uses for your space/time offerings
Yes, you're in the space and community business. But you're really in the space/time (and community!) business. Two members in the same business might need different offerings based on their individual needs, but the variations in your offerings as perceived by users are:
Size of space
Privacy
Included hours in a plan
Price
Included extras and options
Typically you'll have 3 (or in our case, 4) types of personal workspace, not counting conference rooms, event space, phone cubes and podcast booths:
Open coworking – 3' – 4' of table space
For people who don't need dedicated space: their work life is on their laptop. They might drop in to work anytime. They could be any of the types of workers described above, but this is definitely for unfunded startups or individual employees paying for a plan themselves. Even corporate teams may want some open coworking plans for their employees who come in occasionally. And you can accommodate that need, too!
**Timewise, design plans that are Unlimited 24/7, Working Hours, and "Buckets of Passes"
Dedicated Desks – 5' of desk with some privacy barrier and locking storage
This works for people who need to leave a few monitors in place and want to know they can be in the same space every day. If they have a very personal call, they'll use a phone cube. They might need the conference room occasionally, if they have clients in, but they don't need a private office full time.
**This will almost always be an Unlimited 24/7 plan – otherwise, it would be Open Coworking
Workstations – 6'x6' semi-enclosed space, with more locking storage and possibly a hard-wired internet connection
We have an additional level of space that isn't typical in coworking. We find it works well for people who need more space to spread out and can't quite afford an office, or they function better in a more open environment. It's also great for a corporate employee whose company pays for their space or someone who needs the hard-wired connection.
**Set up Unlimited 24/7, 5 days/month, and 12 days/month plans, tracked automatically.
Private Offices and Team Rooms – The amount of space people want and need will be determined by the number in their team and their budget. But any of your vacant spaces should be able to be used on a part-time and day use basis quickly and easily, until they are needed by someone full-time.
Conference rooms, event space, phone cubes and podcast booths – You may have consultants who just want to use conference rooms. Or podcasters who like using your space. Or teachers or therapists who want your phone cubes for Zoom meetings.
**For those who only want to use these spaces, set up plans for a certain number of hours on a monthly or pre-paid refillable plan.
4. Know the security and bandwidth options you can offer
Set up your security and internet bandwidth options ahead of time, so you aren't caught flat-footed when someone asks. You may have potential members needing dedicated bandwidth. They know they will pay extra for this. Or they may ask you for a VPN (Virtual Private Network), and you should be able to accommodate. Or you may throttle everyone to a certain level of bandwidth and get someone who needs expanded bandwidth. Be ready with set prices for these as automatic adders to their monthly bill.
5. Make community guidelines REALLY clear
If you have people from all different industries and job types, be very clear on community expectations. Some people will want to be very involved with others, and some will be more connected to their company community. Be sure you aren't just a space or you will find that your turnover increases. People need to understand your policies around voices, guests, cleaning up after oneself, etc. And be sure you have events during the times of day that everyone can connect.
6. Be able to offer different mixes of space and time…easily
It's all very well and good for us to recommend offering a broad mix of space and time plans, but isn't that a pain to setup, track and bill for? Your management software should make it very quick and easy to set up plans that include a specific space and automatically track when someone is in the space. Through Deskworks, you can add a plan, use it across all your locations, select what resource you want it to track, and how many hours or days are included in the plan. You can then choose how frequently it bills: monthly, quarterly, annually or "as needed." Set a different price for the plan in each of your locations if you want.
7. Make it simple to track usage for different types of plans
So you've built plans with a certain number of hours or days in a particular space. The Honor System is not a great way to track actual usage against those plans. Your management software should incorporate features for tracking usage automatically against the plan you created and sold. With Deskworks, if a plan includes 10 hours per month, for example, any usage over that rolls automatically onto a monthly invoice. Or if a plan is for a "Bucket" of 10 day passes, the plan rebills whenever those passes are used up – whether in 6 days or 6 months. Plans are tracked through WiFi or ethernet (when the person is logged into your network) or through the reservation system. You can set up plans that track usage for an individual or for a team.
The more you can broaden your appeal to a broader mix of potential members, the easier profitability becomes. When one market slackens a bit, another rises. That's truly one of the beauties of coworking as a business.
Deskworks was built by workspace operators to meet the rapidly changing needs of flexible workers. Request a demo to learn more about the power of Deskworks automation.