The Top 10 Satellite Deskworks Blog Posts of 2018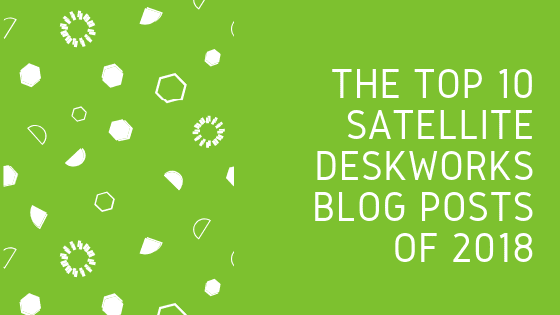 One of our goals at Satellite Deskworks is to support shared workspace operators in running their businesses more efficiently and effectively.
From our clean and flexible coworking software, to network check-in, to integrated door access, sustainability practices, marketing and more, we have a wealth of information and expertise to share from our 10 years of running shared workspaces.
Here are our top 10 blog posts from 2018.
Craigslist can be a powerful way to attract members to your coworking space. The platform reaches people searching for offices, workspace, dedicated desks, coworking space, meeting rooms and more. And advertising on Craigslist is free.
Choosing software for your shared workspace is one of the most important decisions you'll make as a space operator. The right workspace software will enable you to run your space efficiently, smoothly and affordably.
The wrong software will leave you frustrated as you try to navigate confusing processes, non-intuitive design and navigation, systems that try to do too much without doing anything particularly well, and software that was created by software developers not workspace operators.
Shared workspace operators are busy. You have members and guests to greet, operations to execute, emails and calls to answer, printers to fix, coffee to make and a workspace to run.
One of the best ways to support your community manager and shared workspace team is to empower members of your space to do as much as they can on their own. This will free up time for your staff, eliminate repetitive tasks and reduce your overhead costs.
Yelp is a valuable tool for finding great restaurants, shops, activities and even coworking spaces. It's also a massive community of people sharing their experiences. Yelp users have left well over 100 million reviews.
Because the directory and review platform is so popular, it's a great way to promote your shared workspace. You can attract new members, promote services and specials, boost SEO and establish yourself locally.
InDo Nashville is pushing the bounds of what coworking can be. Located in Nashville, Tennessee, an artist-rich city and longtime musical hotspot, InDo is home to a wide variety of music industry professionals. It also boasts an event space and songwriting rooms for artists.
Launched by coworking pioneers Iris Kavanagh and Laura Shook Guzman on International Coworking Day in 2016, Women Who Cowork had its first meetup at the Global Coworking Unconference Conference (GCUC) 2017 in New York City.
The vision for the organization is to support entrepreneurial women who run coworking spaces so they, in turn, can better support and empower their members who have traditionally been underserved in the entrepreneurial ecosystem.
Google Places is a powerful tool to help shared workspace operators boost their search ranking on Google. A feature of Google My Business, Google Places provides an overview of your business, including your address, phone number, website, directions to your space, reviews, photos, customer questions and more.
You asked for a Satellite Deskworks app, so we created it.
The new workspace app lets you and your members take Deskworks wherever you and your phone or mobile device go. Available for download through the Apple App Store and Google Play, the app works for all sites using Satellite Deskworks coworking software.
Creating a green, sustainable shared workspace is good for the environment. It can also be good for the bottom line. Energy and waste reduction strategies can be affordable to implement, products are easy to find, and they can help space operators save money in the long run.
As a coworking space operator, designing your workspace right is a vital part of starting out on the right foot. You can give yourself a vastly greater chance of success if you can offer a broad range of space and membership types to attract people with different financial means and workspace needs.
---
Satellite Deskworks is flexible workspace software designed by space operators to save time and money. Request a free demo.