Women Who Cowork Shines a Light on the Community of Women-owned Coworking Spaces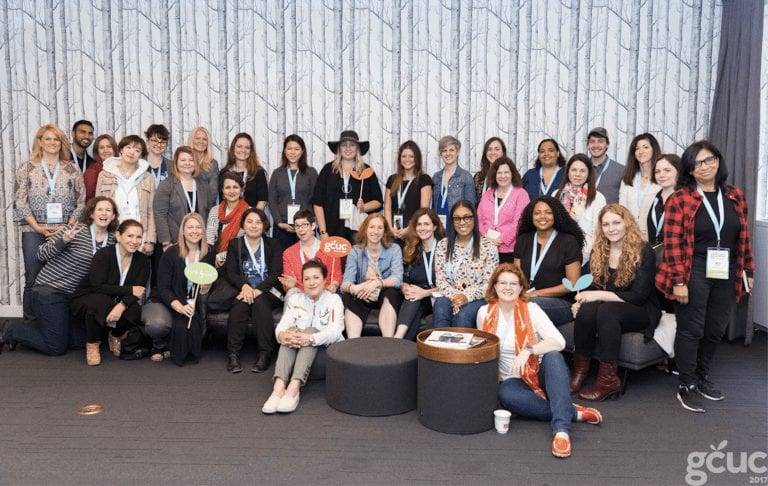 Women Who Cowork meetup at GCUC USA in New York City, 2017. Photo: GCUC

---
Last month in Austin, Texas, Women Who Cowork hosted its first official event, a Leadership Retreat for female founders, owners and operators of coworking spaces. The goal was to bring the community together to connect in-person, learn from each other and relax.
Over three days, women from the U.S., Canada and Scotland dove into conversations about entrepreneurship, launching and running companies, community, negotiations, marketing and more. It was a fantastic debut event for an organization positioned to further the coworking movement in powerful ways.
Origins of Women Who Cowork
Launched by coworking pioneers Iris Kavanagh and Laura Shook Guzman on International Coworking Day in 2016, Women Who Cowork had its first meetup at the Global Coworking Unconference Conference (GCUC) 2017 in New York City. The vision for the organization is to support entrepreneurial women who run coworking spaces so they, in turn, can better support and empower their members who have traditionally been underserved in the entrepreneurial ecosystem.
As the Women Who Coworking website states, the community is a "growing group of female entrepreneurs, who have created more opportunity and inspiration for other women business owners worldwide, by opening the doors to coworking spaces within their local communities."
Women Who Cowork Resources
Among the Women Who Cowork resources and offerings are the Global Directory of Women-owned Coworking Spaces (including our own Satellite Workspaces, founded by Barbara Sprenger); in-person events, including a meetup at the upcoming GCUC USA conference April 22-24 in New York City; a private Facebook group for female coworking space founders, owners and operators and consulting services. Plans are in the works for a Global Alliance and a Women Who Cowork Mastermind.
As Kavanagh and Shook Guzman told Allwork.space, the goal for Women Who Cowork is gender equity for women in business. Kavanagh explained further: "The big picture vision for Women Who Cowork is to have a global alliance of women-owned coworking spaces, and women coworking managers who are connecting with each other, providing support, gaining access to resources, services, funding and community in a way that promotes their business, helps them run a better business and provides visibility to them in both the press and the people in coworking."
To learn more about Women Who Cowork, visit womenwhocowork.com. To learn more about the inspiration for the community, see Bringing Gender Equity To The Coworking Movement: A Q&A With The Founders Of Women Who Cowork
---
How's your workspace software working for you? Deskworks is clean, flexible software for your coworking space that simply and efficiently does what you need it to do. To see Deskworks in action, request a free demo.
---
Subscribe to the Deskworks newsletter for new feature announcements, resources for workspace operators and coworking industry news.
[contact-form-7 id="5131″ title="Newsletter Sign Up Blog"]