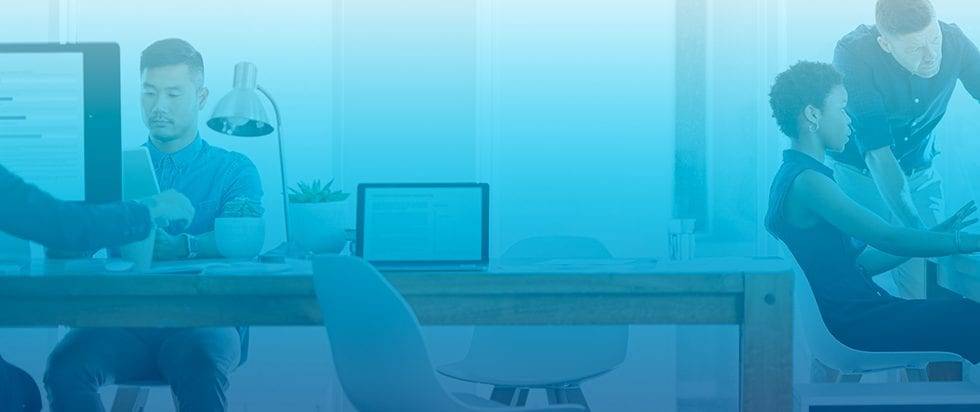 Corporate Coworking Space Software
Deskworks: all the tools you need to run a corporate coworking space in one place.
Let Deskworks Empower Your Corporate Coworking Space
Deskworks is a comprehensive workspace management platform that removes the operational barriers in developing coworking space within your organization. By introducing Deskworks into their flex corporate space, businesses can optimize their collaboration, innovation, and employee retention.
Deskworks' coworking space software is the choice of top corporate coworking spaces around the world with features like:
Automatic network check-in
Unlimited inventory options
Simple space reservations
One-click reporting
A clutter-free dashboard that empowers employees to manage their account
Full-featured mobile app
Our software will help you manage the chaos so you can get back to what really matters – operating your company and facility.
Our coworking software allows employees to be self-sufficient.
They can handle their own reservations and profile and connect with others. Simple automation and intuitive one-off functions let space managers focus on the rest of their job. The end result? Your workforce is more efficient, collaborative, and scalable.
Why Use Deskworks for Corporate Coworking?
When it comes to streamlined corporate operations, we know what it takes. Our software management solution allows you to easily create a flexible workspace environment with an atmosphere and culture that fosters creativity, open lines of communication, independence, and balance.
The possibilities with Deskworks are endless – when you adopt our corporate coworking software management system, your employees and managers will have more at their disposal than ever; including:
User-friendly member portal and mobile app
Instant reports with real-time information
Interactive online reservations
Intuitive calendar with flyout pictures and descriptions
Easy inventory setup
Seamless scalability
Intelligent network check-ins
Highly customizable and easy integration
Frequently Asked Questions
How do I log into the app?
The Deskworks mobile app is available on both the App Store and Google Play Store. Once downloaded, simply search for your location in the app and login using your Deskworks username and password.
What is workspace management software?
Software that helps operators and organizations manage and optimize the use of physical workspace. It is often used to schedule and book available space, handle billing and process payments, and manage customer data – and may also include features for tracking usage and creating products and plans. Deskworks gives you all of this, with a special emphasis on automating your workspace too. We help make your workspace business operations accessible, sustainable and efficient for you, your team, and anyone using your space.
Why is it important to have a Coworking Space Software?
Coworking software helps manage the day-to-day operations of coworking, shared, and flex office spaces. This can include tasks such as scheduling meeting rooms, managing user accounts, tracking occupancy and usage, and handling billing and payments. With Deskworks, you can automate many of these tasks, which can save time and reduce the risk of errors. Our solution can provide valuable insights into how the space is being used, which can help owners and operators make data-driven decisions about how to optimize the space and improve the overall user experience. Find out if coworking software can help you →
What are the most important features of coworking software?
Coworking and workplace management software is an essential tool for many operations – but depending on your position in the organization and who your company serves, this answer may vary. With that being said, there are definitely several features that always top the list:
A simple one-view dashboard to know exactly what's happening in your space.
Intelligent Network Check-in to track usage and capture revenue accurately and automatically.
A user-friendly member portal and mobile app with fully functional access to reservations and billing information from any device.
Real-time reports to help you make informed decisions about your space.
Automated and reliable billing, allowing you to focus on building your community.
Highly customizable settings and easy integrations to streamline operations and manage your space just the way you want. Here are a few more features your members will love too →
What are the average costs for coworking software?
On average, coworking software costs start around $100 per month for smaller centers, rising to several hundred dollars or more per month for larger centers. A small center is around 500 to 7000 square feet, while larger centers can range from 7000 to 25,000 or 35,000 square feet. At Deskworks, we base pricing on the size of your space so you only pay for the users or resources you actually have.
Click here to view our plans →
Why is Deskworks the best for your coworking space?
We are space operators ourselves – and have been for over a decade! We know what people like us need to maximize revenue and profit while building a thriving community. Our Intelligent Network Check-In and One-view Dashboard help to manage operations efficiently and automatically. But don't just take our word for it →
Do you offer a workspace mobile app for members?
Yes! The Deskworks app is a fully functional mobile app, which means that EVERYTHING you can do on your desktop you can do on your phone/tablet in the app as well.
Does Deskworks offer a free trial?
Yes! We offer a 30-day free trial.
How much time does it take to onboard Deskworks?
Our onboarding process typically takes 2 – 6 weeks. This time will vary depending on several factors, including complexity of data, integrations involved, and if you're migrating from an existing management platform or starting fresh. An onboarding specialist will work with you to tailor the software for your operation. We also dedicate a minimum of 3 hours to private training sessions for you and your team.
Additional sessions are complimentary and our support staff is always happy to answer questions and provide support via email/videochat whether you're a new customer or you've been with us for years. Plus, the Deskworks Knowledge base has a plethora of useful information and guides to help you get the most out of your favorite tool – instantly.
How is the security and governance of Deskworks covered?
The security of our user's data is our first priority. Each location has its own instance on our state of the art managed cloud servers.
What is a desk booking software?
Desk booking software allows users to reserve and schedule shared workspaces, such as open coworking/hot desks, private offices, conference rooms, and other shared resources. It typically provides an interface that allows operators and users to view availability, make reservations, and manage bookings.
Deskworks takes this concept a step (or two) further, from bookings to billings, payments and network check-in, we provide a comprehensive tool for workspace operators that automates tasks and streamlines operations. Click here to learn more about our features →
Can meetings be booked using a mobile phone?
Yes! Both admin and users can access their portals and book meetings on a smartphone or tablet with the Deskworks mobile app. It's a fully functioning app, so you'll be able to utilize every feature available on the desktop version. Find it on both the App Store and Google Play Store.
Learn More About Deskworks
Flexible corporate workspace solutions enable you to introduce coworking into your office and, ultimately, drive collaboration. By allowing your teams to interact and share ideas, you'll engage your team and improve morale.
Interested in learning more about our corporate coworking software solutions? Request a demo today!
The go-to solution for workspaces everywhere.




What Our Clients Are Saying
The product is remarkably flexible.
We've been using DeskWorks for some time now. We're running a lot of services with it, and we've been able to automate a lot of our business, reducing staff time considerably. The product is remarkably flexible. We use the API to connect with another couple of programs, and that has enabled us to really customize the sales process we were using. The Deskworks team has been highly responsive to our needs, resolves issues quickly and has even worked with us to customize the application for our particular needs.

Victor Mataraso
Victory Workspaces
and Reliable Receptionist
Awesome. Awesome. Awesome.
I am writing to show you our all new www.OfficePlace.com and to tell you how happy we are with being able to have Deskworks as an integral part of it. We have have the Meeting Room Reservations set up throughout the site and have the floorplan interactive as well. It is seamless in connecting over. Awesome, Awesome, Awesome. We're very appreciative of what you have created. Going further, [the Deskworks team] has been great and tireless in working with our [team]. Our webmaster has done a great website for OfficePlace with the [Deskworks] integration. Here again, it is impressive how much the software does and does well for us. Very happy and Congrats to you guys for what I am sure is another success story.

Lennie Leibenhaut
OfficePlace
Deskworks was the one that just seemed to have the most features that worked for us
Three years ago I looked at basically everything that was on the market. Deskworks was the one that had the most features that worked for us, that made the most sense economically, and that could scale with us as we grew.

Kate Richardson
Co-founder of InDo Nashville
If you're serious... Deskworks is it.
If you're serious about running your coworking space as a business—if you're a business-minded person that wants ease in entering your members, tracking them, running reports, and having a robust management software, Deskworks is it.

Tamara Payne
Co-founder and Chief Connector
at Ensemble Coworking
Everyone at the company has been so supportive and helpful.
We started our center and immediately chose DeskWorks, after looking at everything else out there. Everyone at the company has been so supportive and helpful. We got a lot more than just software! DeskWorks is remarkably intuitive. It's very easy for us to use, and our members can do so much for themselves that our job has become even easier!

Daniel Rivera
Grindstone Coworking

Victor Mataraso
Victory Workspaces
and Reliable Receptionist

Lennie Leibenhaut
OfficePlace

Kate Richardson
Co-founder of InDo Nashville

Tamara Payne
Co-founder and Chief Connector
at Ensemble Coworking

Daniel Rivera
Grindstone Coworking
Coworking Center Best Practices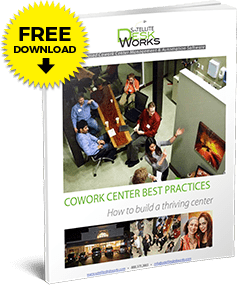 Coworking Center Best Practices
The number of shared workspaces is increasing more than 50% per year. Make sure your space is one of the successful ones.
Subscribe now to download our FREE Coworking Center Best Practices.