3 Takeaways from the live in-person Seattle GCUC!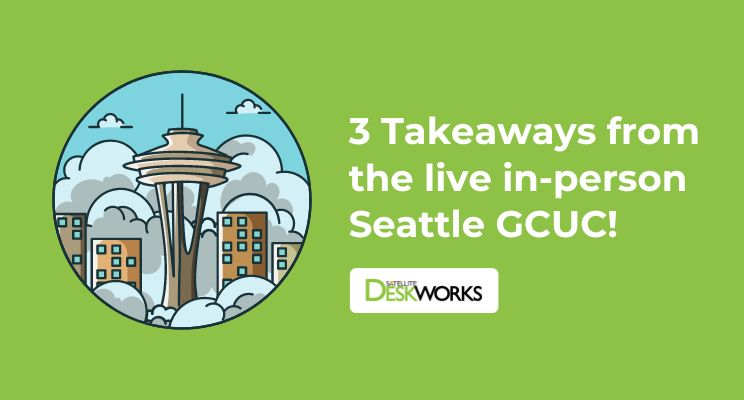 It was amazing to see old friends and new at the Global Coworking Unconference Conference (GCUC) in Seattle a few weeks ago. I'm still marveling over the industry changes since the last time we could see each other in person. The coworking industry is exploding – literally growing in lots of directions.
Here are three takeaways for you:
Takeaway No. 1: There's room for all types of operations
Let's face it. Coworking started as a mission-driven endeavor. We wanted to support communities of knowledge workers that might otherwise be isolated. We wanted to reduce commutes and CO2 emissions. We wanted to reinvigorate our small towns. We wanted to save the world. 
And now large operators have entered the field. They're building bigger centers, and they have demonstrated that large profits can be made through scale. And that helps all of us. Their marketing dollars make people more aware of the industry. And as Garrett Tichy of Hygge said in his presentation, nobody sees an Instagram post and decides they need a coworking seat. The large advertising budgets of IWG and others make people aware that coworking exists as a solution to their workspace problems. The large operators fill the need for larger companies. But the large companies in the industry only account for 14% of the market. 
As Laurent Dholland of Pacific Workplaces has said, when you travel, you want a Starbucks; when you're in your own town, you want the neighborhood coffee shop where they know you. Same for coworking. Neighborhood workplaces are vital in the coworking ecosystem.
Further, there's a need for small, medium and large centers; those that have childcare or coffee shops; those that include fulfillment space or event space or even shared labs and commercial kitchen space. There's a need for spaces that are primarily offices and ones that are primarily open space, ones that are formal and ones that are informal. This isn't a one-size-fits-all industry.
Takeaway No. 2: The balance of power between Aggregators and Operators is not in balance.
I tried to find a way to say this without putting people up in arms, but one aspect of recent consolidations coupled with moving out of the pandemic is that aggregators – those sending you leads, reservations and sales – are able to control the shots more than they should be. They are demanding a larger share of the revenue – in some cases 50% of a reservation. Even though you are the one shouldering the labor and rent and broadband burden. Entering your available spaces on their websites is time-consuming and frequently confusing. (A new middleware product, Syncaroo, could simplify this greatly, as its use grows.) When we are all back up to full occupancy, it may make sense to limit your use of aggregators and keep more of the revenue – and the database – yourself.
Takeaway No. 3:
Liz and Stormy
really know how to do this!
Even though these two pulled together GCUC 2022 in just a few months, and attendance necessarily was smaller than pre-pandemic, the program and attendees and structure were wonderful! They had the right balance of presentations and break time and parties, so people could discuss problems, learn from each other, and really connect. The presentations were just what you needed in both the newbie and experienced tracks.
All in all, I'm more energized than ever to keep going and see what the next year brings. Thanks to everyone who was there!
Here with you,
Barbara