Perseverance and Peace of Mind: a Q&A with Natalie Miller of Grit & Lavender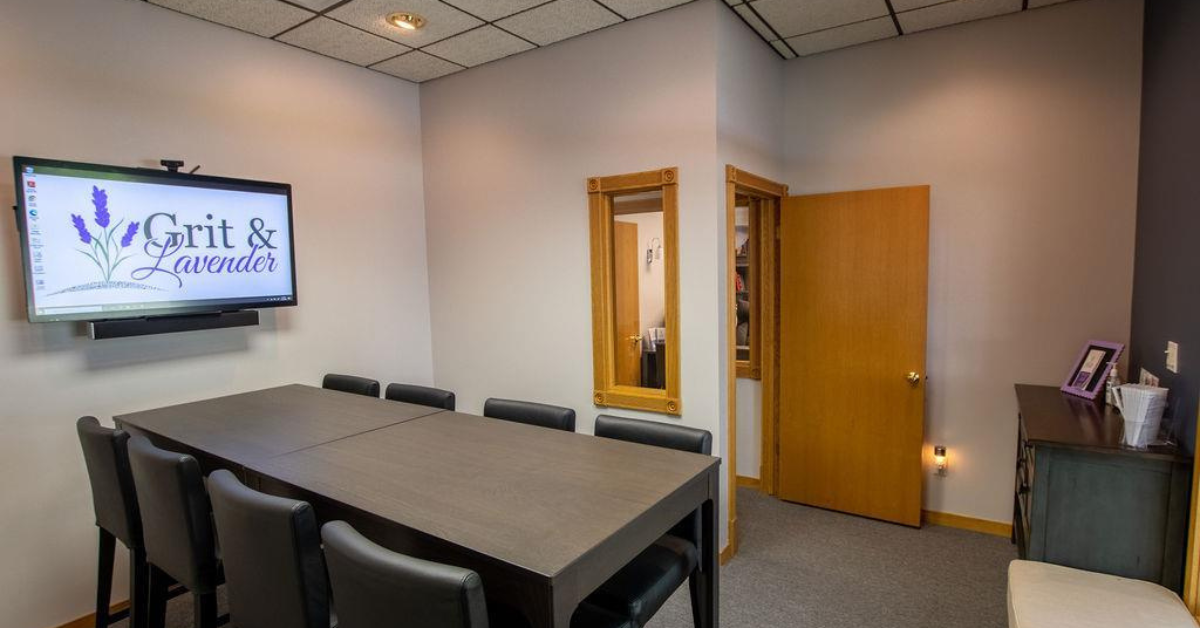 Natalie Miller is the founder of Grit & Lavender, a coworking and flexible office space in Brighton, Michigan. She recently spent time with Deskworks to share some of the valuable insights she's gained in her journey as a space owner-operator, and recount some of the amazing stories that lead her to the success she enjoys today!

Would you like to share with us the origin story of your space?
I was not planning on getting into this industry. I just saw an office space I thought other professionals could use, and I jumped in, as I was trying to create my financial planning practice. It was not intentional. The thought was more like, 'I need an office space to work for me,' and so I created my space in response.
In 2019, I worked out of my house with my daughter, who was then almost four. I'd be shut up in my office all day long, or trying to use the kitchen table, with all my stuff spread out. I knew that I needed my own four walls. And when I was looking for one office, I saw a three-room suite available. Then I noticed another suite was recently vacant. When I walked in, I had a premonition. It was one of those moments where I could just see the whole vision of it. Suddenly I was faced with the task of convincing my husband that I had to rent both spaces, not just one room. And he was like, "Lady, that's $3,600 a month in rent!… We went from you making your own business, a financial planning firm, by yourself, to creating a whole 'nother business!" And that involved him building me 10,000 lbs of furniture, on top of it. It was just reverse engineering from there.
Where did you get the name?
Maybe it was that sacred combination of mosquito bites and TED Talks? Or maybe it was my background in construction and being married to a plumber? Or my upbringing of self-determination and debt perseverance from an early age? In the end, these words represent me, at the core of who I am.
Grit & Lavender was originally the name of my Financial Planning firm. So many cliches centering around money involve, "Pulling your hair out," and "putting a pit in your stomach," till "you can't sleep at night," etc. Yet a lot of people know lavender oil helps heal a lot of those stressful ailments. That's where the initial idea of lavender came from; and grit came from passion, and perseverance, for very long-term goals, such as paying off debt, saving for college, paying off a mortgage, and saving for retirement. There are a lot of competing priorities that come up. Grit helps you navigate all that. Plus, it pays homage to my construction background, where gritstone is used to help fill in the cracks and strengthen the roads. I'm not afraid to get my hands dirty, but instead, opt to dive in with you and meet you where you are. So it's that gritty dive into meeting you where the rubber meets the road, whilst giving you that calm and stress-relief peace of mind that someone's got your back.
Has grit played a significant role in your career as well?
Absolutely. I've had to make a lot of pivots and adjustments along the way. I was laid off in 2008, then went back to school. Mentorship came to me from all sorts of places. First, it arrived in the form of my excavator boss/pastor who taught me about 401k investments and accounting, and helped me first get on my feet. Then, I bought a crappy trailer and received heating advice and life wisdom, mid-winter, from a big truck driver from Kentucky named Delmer who, last I'd known, had been married seven times. These were some of the guys who looked out for me. I was a nineteen-year-old kid. I didn't know what I was doing.
After dual-majoring in International Business and Business Management from Northwood University, I moved between Michigan, Colorado, and Germany for a while, chasing after my international plumber of a husband. Then, during the Great Recession, I switched careers. From a nurturing manager, I learned some sales essentials. Then, I went to work at a big bank, had my daughter, and came back from maternity leave, only to find out my branch was closing. Plus, I had been working 80 hours a week for bosses who asked me, when my only child was sick, to have better childcare backup options. Finally, I felt if I can't find what I'm looking for while I'm trying to raise my family, I'm just going to build it on my own.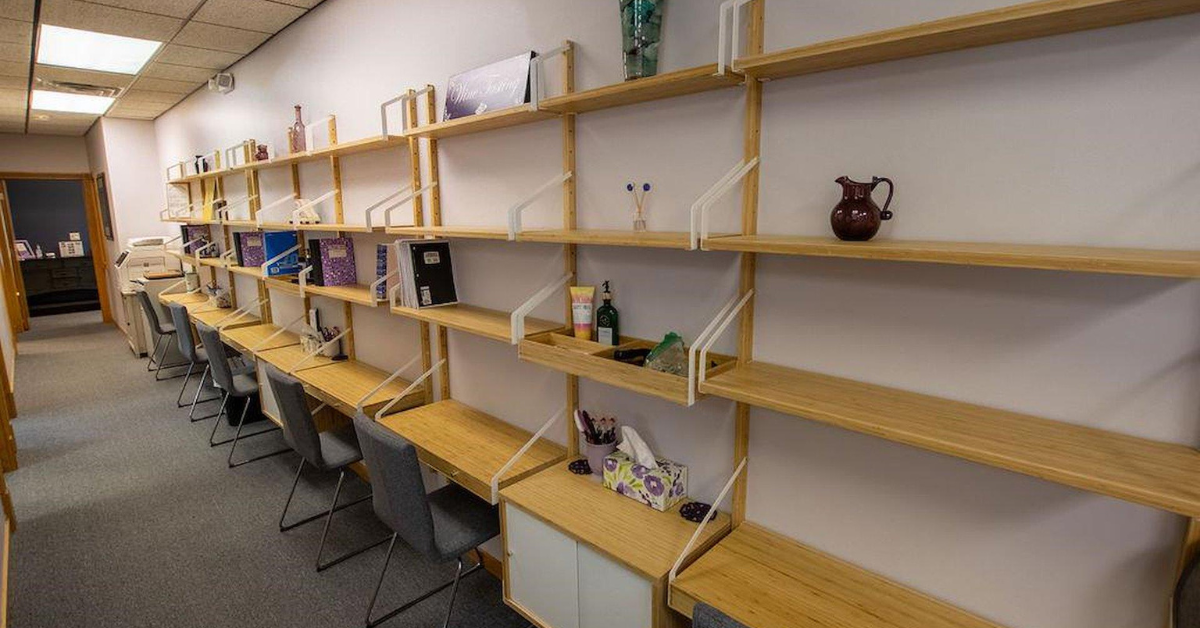 And build it you did. Nowadays, what kind of community do you find at Grit & Lavender?
I like to envision my space as an outlet for that duality held within my own life experience. Being the owner of a coworking space opens up conversations and brings far more business to my financial advising gig than starting with the fact that I am a financial advisor. From there, I can build an authentic connection and relationship with them.
Nevertheless, the skilled-trade types don't necessarily need a spot like mine. They do need, however, a business address, a spot to call home, etc., so they do some virtual mailing with me. A lot of the people that are in my office space are actually more knowledge workers with a certain skill set that they are sharing and meeting with clients. For example, there are four therapists, a few business coaches, and consultants, plus I have a massage therapist and a seamstress that does high-end wedding dresses. Then there's me, doing financial planning as well. And because we're right across the street from the courthouse, we have lawyers and host mediation as well.
Has Deskworks helped you grow or improve your space?
I initially didn't know the value of having coworking space management software. Yet when 2020 came around, I had to reposition the whole business model. The one that I had pre-COVID wasn't going to work. And after I handled all the COVID requirements – social distancing, hand sanitizing, etc. – members started to come back to me. And when they came back, I had to change my memberships around, to make sure I had a better margin, in terms of people and how they were utilizing the space. Plus, we needed buffer times between meetings, expanded mail services, etc. All of this was way too much for me to manage. I was working 80 hours a week, once again, and couldn't even get my feet underneath me. I didn't have money to continue to put into my business to cover my burn rate. I was doing everything manually. Nobody had a way to book the rooms. Everyone would have to email me. It certainly wasn't seamless. There was a lot of labor-intensive stuff, and I didn't have a good way of processing it all. Then came Deskworks, and saved the day.
What's your favorite Deskworks feature?
I like that it is customizable. A lot of other solutions didn't fit my memberships, as my offerings certainly aren't typical. I need room-by-the-hour reservations, and Deskworks has that capability. Also, the onboarding team was great at getting us trained, implementing everything, and getting it rolled out. And then, being able to utilize the app on Deskworks, is invaluable for my clients, as it creates independence. Now that they have an app that looks like a Grit & Lavender app (because of your white labeling functionality) they can open the calendar, see in real-time what room is available, and book it from anywhere. Plus, having automated recurring billing, so that I don't have to push the bills every month is really helpful, too.
How would you advise another space operator considering Deskworks?
Since I've integrated Deskworks, we have experienced year-over-year growth. Specifically speaking, we've seen 40-60% growth, which is really a big accomplishment. Other solutions are much more expensive and don't have the customizations needed. Deskworks just makes more sense.