Dallas Cowboys put a spin on coworking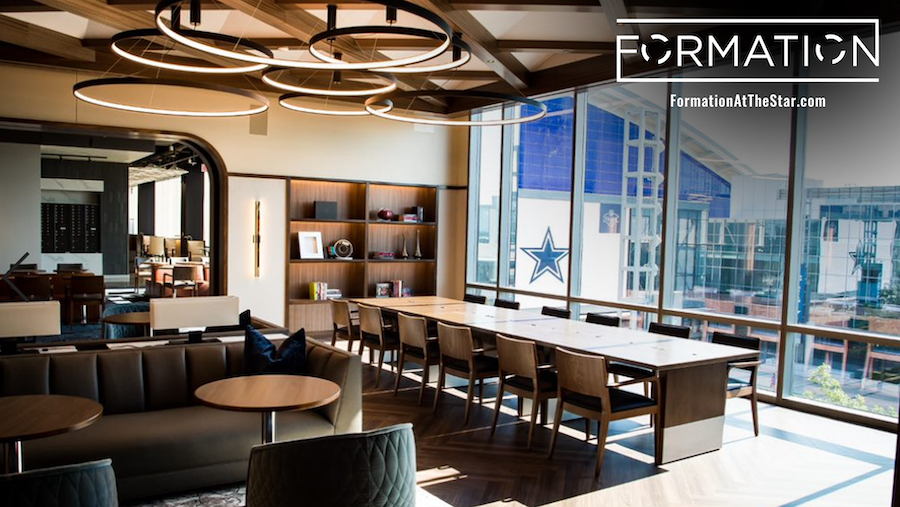 The Cowboys are innovative on so many levels. We checked in with Chelsea Vick to see how they've enhanced Frisco, Texas, outside of Dallas, with their creative take on building a business and coworking community.
Deskworks: How and why did the Cowboys decide to open a coworking space?
Chelsea Vick: The coworking space, Formation at the Star, is at Jerry Jones' The Star property, which encompasses the headquarters of the Cowboys and was designed to be a full lifestyle environment. We'd launched Cowboys Club, Twelve luxury condos, Cowboys Fit, shops and restaurants, and were asking, "How do we bring "work" into the mix"? Hence the launch of Formation.
What's unique about your coworking space? Any particular design elements?
Formation is designed to share similar design elements of the Dallas Cowboys Headquarters and The Star property. We have a lot of memorabilia: The boot that Jerry was wearing when he "booted" out Coke and made Pepsi the exclusive provider. Ping pong tables from the locker rooms have been turned into work tables. Rooms are named after famous plays and coaches. There are images from our archives that most people have never seen. We've focused the design on weaving open workspace in with offices, so you'll never see a long hallway of offices. Aesthetically, we've worked with neutrals, we're big on textures. The space is welcoming as well as high end.
Formation kind of provides a sense of exclusiveness for your business. In our 20,000 s.f., we don't have a lot of offices. We have a higher density of open coworking. Twenty four offices overlook fields, and the open space looks out to a beautiful plaza. Every Friday and Saturday night during the holiday season, there's a huge production, cheerleaders perform, there are watch parties for members. During this season, there's a cocoa bar for kids and families. A lot of our members in the startup world use the space for client-facing meetings. About 70% of them are affiliated with the Cowboys in some way, and others like connecting to the Cowboys' experience through the space.
What do you like about working there?
I worked for WeWork for 4 years and love the coworking environment and community. I wanted a place that was passionate about their employees and the community it serves, and this is it. A lot of people have been here for ten years or more, which speaks to how proud people are to work here. That feeling is supported by the ownership and leadership team. And I love the caring people who are members. They support each other in a personal way.
What's your favorite Deskworks' feature?
It has to be the reporting capabilities. We're big on learning what we're doing right and how to be more efficient. We can quickly measure and see how much usage our spaces are getting so we can adjust. We can see member usage in general. And it's all easy!
Check out Formation at the Star, a beautiful, high-end, engaging coworking space at formationatthestar.com.
---
In the rapidly-growing shared workspace industry, regular analysis of your coworking space operations is essential to running a sustainable business. Deskworks gives you powerful, real-time reports with just one click. Want to take it for a spin? Schedule a free demo to get started.