Inside the Muse Rooms: Coworking by Creatives for Creatives
The Muse Rooms is a coworking brand in Southern California with the tagline, "by creatives for creatives." With locations in Hollywood and Burbank, the Muse Rooms are geared toward the entertainment industry, serving writers, actors, producers, directors, industry professionals and service providers.
We spoke with owner Nancy Sexton about the inspiration for the spaces, how she uses colors and vibe to attract creatives, and upping the cool factor of members with a one-of-a-kind coworking experience.
Satellite Deskworks: You have such an interesting niche and community, Nancy. Tell us the backstory of how the Muse Rooms came to be.
Nancy Sexton: I'm a writer, I've had a fitness business, I was on television. I did all this stuff before and I was looking for something new and different. I was really sick of training people and I just wanted something else. I said to my husband, 'I'm going to quit all the jobs that I have and I'm just going to let something come up.' He was like, 'Great. Okay. Sounds perfect.' Yeah, no more income for me.
Then I got an email about going to work out of a space in Brentwood as a writer. I was like, 'Well, that's crazy. This is a business model extremely similar to a gym. How great would this be? I could help people fulfill their dreams while I'm fulfilling mine. I can make this work because I can still write.'
So, basically, that's what I did. I developed the business plan and got funding. The idea came to me mid-August and we were open November 1st.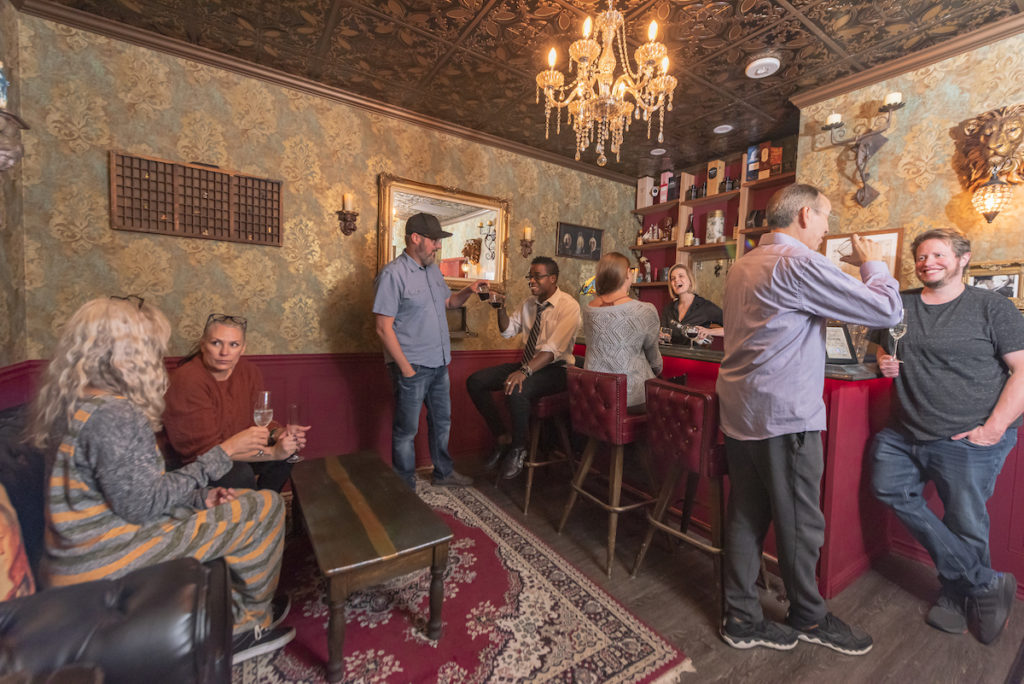 The space itself looks amazing, with the colors and the creative vibe.
I did a deep dive in color study on my own when I opened the first space in North Hollywood, which is currently closed because of the pandemic. I had been working on a writing project about the turn of the century and had done a lot of research about immigrants moving to California. America is truly an incredible melting pot of everyone's cultures.
I think that people really do forget that. 120 years ago, the people were really still making their way across the United States and they couldn't really afford a lot. So what did they bring? They brought their hands, their skills, maybe their spools—they brought those over furniture and other things because that was their livelihood.
So you get all these great people coming with all these awesome skills. And because we are a melting pot, it took a few years and then people started adapting items from other cultures. I really liked that. I like that furniture, I like that vibe, I liked those colors, I like all of those things.
I used colors that inspire, make you more creative and make you more effective in your job. I love all that furniture and the intricacy of the woodwork at that time. There was a lot of carving and just really beautiful pieces from all over the world. In fact, the Burbank location has a dragon that's 52 feet long by 7 feet tall. It wraps around the room. When we sat down with the artist, we said we wanted to keep a Chinese influence but bring in other elements, mainly because the Chinese had such a huge influence in California, especially with the railroad. We wanted to embrace that.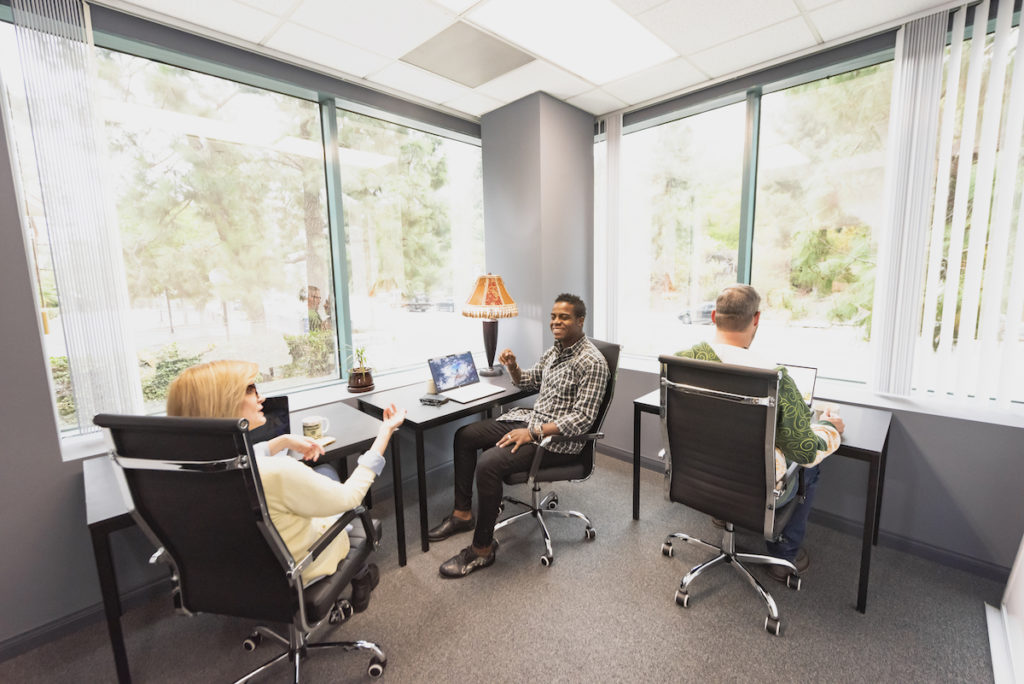 What was the inspiration for the name Muse Rooms?
When I was a model in New York, this one designer I worked with would always call me his muse, his inspiration, and I really loved that.
I've traveled and lived in a lot of different places, so I have a lot of influences and experiences prior to coming to Los Angeles. I lived in New York for 12 years; I've lived in Ohio; I traveled a lot; I lived in Europe for four years. So coming to LA from New York wasn't just, 'Oh, I'm going to LA.' There was a lot of stuff that was coming with me.
What's the Muse Rooms community like?
It's funny because it's a creative space. You know that automatically. It feels very comfortable. We don't have like a 20-year-old something or other at a desk judging you as you walk through. We don't have that at all. In fact, we have no front desk. When you come in, you just walk in and go to your space and work. We trust our members, we treat them like adults.
There is a cool factor with our space. If you're an accountant and you have a client coming in, and they're like, 'Whoa,' it ups your cachet. It brings up your cool factor. That sounds so stupid, but it's true. If you were a high end lawyer, you may not come here because your client would think it's a little too creative. If it's your jam, you get it. If it's not, you don't join.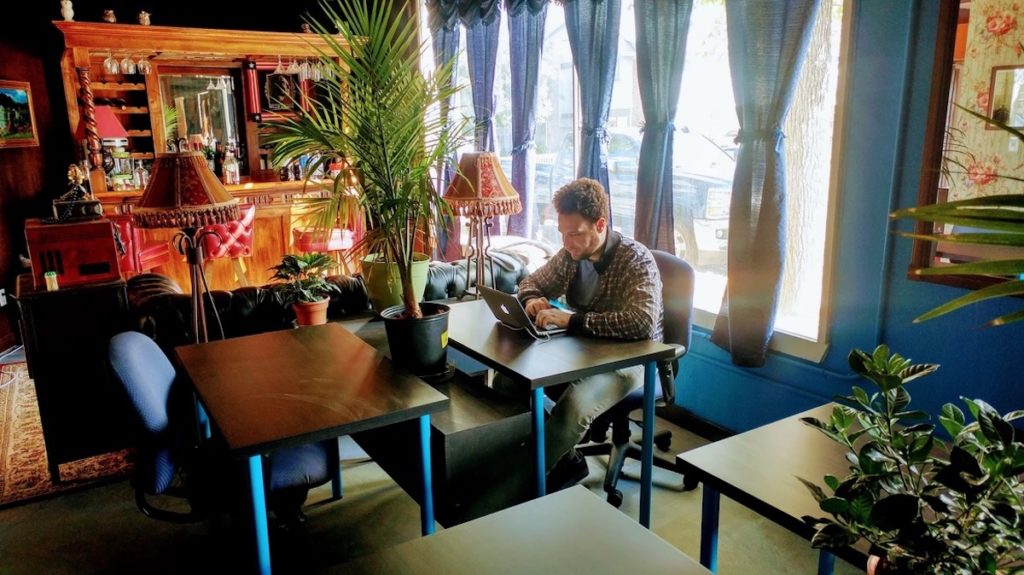 What else should people know about the Muse Rooms?
I think what's really great about our community is that we've worked really hard to understand what our members need. And we really are geared towards entertainment. When we developed and designed this particular location, we created two writing rooms that have offices right off of them because I know that's a need for production.
The other thing we did at this location was we designed a secret room in our space. It's behind a bookshelf, so you can rent our boardroom for a meeting and then, for a fee, we provide a bartender with cocktails in the speakeasy after your meeting. That's one of the really cool things.
We also made our boardroom pretty spacious. It seats 12 at the table, with ample room for another eight chairs in there. And we have a green screen that goes all the way to the floor. It's the biggest green screen we could get.
We also have a black, green and a white screen for interviews or auditions, if anybody needs that, and I'm getting a podcast station. The space is sort of like a turnkey. If you need to shoot something, you can do it here.
You use Satellite Deskworks to manage the Muse Rooms. What's your favorite Deskworks feature?
My favorite feature is the ability to design different memberships. Deskworks allowed me to expand the types of memberships that I can offer. So rather than just offering a monthly recurring billing option, the software allows me to track a member's usage and charge them accordingly. So I can now charge a day rate without having to manually track the member. I have network check in installed and it's amazing. I know who is here and for how long, and network check in allows me to charge them for the time they are here, which opens up a ton of membership options.
Thanks, Nancy! What's your big picture vision for the Muse Rooms?
We're purchasing an apartment in Italy—in Tuscany—and making that part of our Muse Rooms umbrella!