How to Design a Coworking Space: 6 Resources for New Space Operators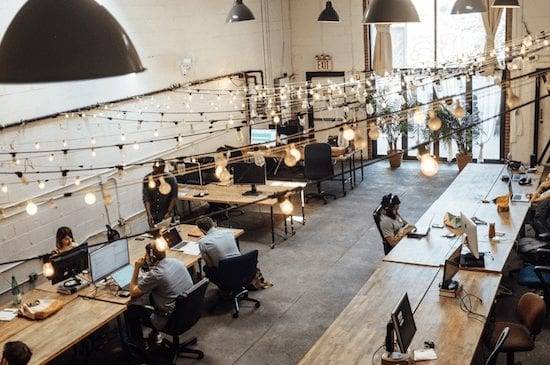 One of the first things new operators need to figure out is how to design a coworking space.
It's not enough to create a nicely-designed space that looks good—you have to create a space that inspires connection, has a variety of workspaces, meets different comfort levels around noise and foot traffic, enhances productivity and boosts members' wellness.
No small task, is it?
We've rounded up six resources to help you design a coworking space that works for your members, your extended community and you.

As a coworking space operator, designing your workspace right is a vital part of starting out on the right foot. You can give increase your chance of success if you can offer a broad range of space and membership types to attract people with different financial means and workspace needs.

When it comes to wellness, having clean air is core to a workspace design strategy. But who has time to tend to plants all day when you're busy running a coworking space? Allwork.space rounded up the seven best low-maintenance plants for the workplace, including English Ivy, the Snake Plant, the Spider Plant and the Bamboo Palm.

Noam Hazam, Creative Director at SDI Design, shares eight tips for designing a coworking space, including creating spaces for the essential "co" elements of coworking. As Hazam writes:
"Coworking by definition exemplifies community and collaboration, but sticking a whole bunch of people in a building and merely hoping that they interact is naive to say the least. Anything from 'water-cooler chat', to making new friends, finding a partner (business or other) and hearing about unique investment opportunities is what makes a coworking space successful, and the design needs to facilitate this."

The Turnstone team reminds us that people in coworking spaces are "looking for an environment different from their home." They're looking for a community of like-minded entrepreneurs and, as the resource points out, as a space operators "it is your job to design this environment." Here are some of their key design tips:
A successful coworking space must be calm, yet accessible.
Individuals need to have places to meet, make phone calls and work in peace, while simultaneously allowing for areas that create the opportunity for individuals to come together and converse.
Communal coffee areas, group lunch tables, relaxation rooms and social events: these are all huge factors that will make or break a coworking space.
Remember, when someone tours a coworking space, they're most often not looking for a price tag, they're looking for a community. You need to design and deliver just that.

A one-size-fits-all approach to designing a coworking space doesn't work. Every space is different and every community has different needs. The designers at Ideo rounded up 13 of their top ideas to make a workspace more creative, including the following:
Install a communal table or other gathering space
Make things moveable
Display your values
Put creative tools in the way
Situate joy

Natural light can absolutely transform a space. If there's any way to bring more natural light into your space, do it. Your members will thank you and everyone will be much happier. Numerous studies have found that natural light is a top priority for people in workspace of all types, and humans, in general. Here are a few of the statistics Allwork.space collected around natural light. To see more, visit the article:
A poll of 1,614 US employees by HR advisory firm Future Workplace found that access to natural light and views of the outdoors are the top most valued attributes of the workplace environment.
The research, "The Employee Experience", found that the absence of natural light and outdoor views can be detrimental to the workplace experience. Almost half (47%) claim they feel tired from the absence of natural light or a window at their office, while 43% report feeling "gloomy" because of the lack of light.
BE Offices and Dr. Kerstin Sailer of Brainybirdz found that greater exposure to daylight can improve productivity by as much as 20%.
In 2016, the Global Human Spaces Report found that natural light is the #1 desired natural element in workplace design.
---
Getting the design of your coworking space right is important. So is choosing the right software to power it. Satellite Deskworks is clean and flexible workspace software and our customer service is unparalleled in the industry. Contact us to learn more or request a demo.
---